Michele Elizabeth June 2017 Newsletter
 
Hey All
Welcome to my first ever newsletter, whoop whoop, something I have been meaning to do for years and now everything has finally come together and I am super excited to share it with you all.
So I have recorded exclusively for you an Energetic Forecast for June 2017 and if you click on the link below it will take you to Soundcloud where you can hear it!
https://soundcloud.com/michele-elizabeth-894440629/june-2017-energy-forecast/s-Ua1tC
 June is a great month of illumination and clearing the dross from our lives, get ready to see what is holding you back and letting go.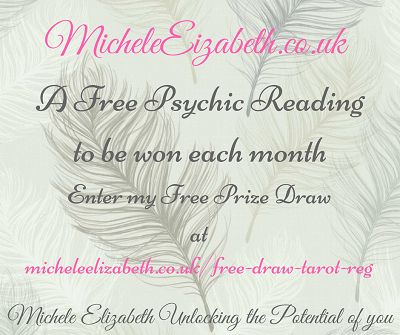 Enter each month here www.micheleelizabeth.co.uk/free-draw-tarot-reg

When life throws you a curve ball.
Everything that happens in our life does so because we allow it. As uncomfortable or farfetched as that may seem it is true.
Consciously or unconsciously we give it permission, we allow it.
But how can we stop this if it is unconscious? It's quite simple really by withdrawing our consent or stating we do not give our permission for any matters when they arise in our conscious awareness or day to day lives.
By understanding that things don't just happen to us, that we are not powerless recipients of bad luck, that we are playing an active role, we can change that.
By simply becoming aware of this we can rewrite our story, we have the power to say this is not the way it is going down, this is how it is going to play out!
If we believe bad things will happen they will but this goes beyond that, this is you taking action, taking back your own power and realising that you create your reality.
It isn't hard and practice makes perfect, so try this for a month and see how your reality changes, how your life becomes more harmonious.
For more information on courses and coaching check out www.micheleelizabeth.co.uk/courses
Have fun !

Please do check out my website, there is information on the development courses I offer and mystic services as well as lots of free video's, information, meditations and general life hacks
So that's it, I hope you enjoyed it and I will see you next month, If there are any topics you are particularly interested in or have any questions then please get in touch at michele@micheleelizabeth.co.uk
Lots of love and laughter to you all, have a fabulous June
Michele xxxxx