Michele Elizabeth September 2017 Energy Forecast
 
Hey Friend
So I have recorded exclusively for you an Energetic Forecast for September 2017 and if you click on the link below you can hear it!
 September Energy Forecast
September is a month for building on the amazing revelations and opportunities the August Eclipse season brought us! It is time to act and start consciously walking your path. Your soul is calling out to you and if you listen you will find that life becomes so much more joyful and harmonious!
Our purpose in life, our development, ascension, enlightenment whatever you want to call it, is to dissolve the conditions of duality within us and move into unity. When we are in unity we experience the unity paradigm, as we are the unity paradigm.
A duality mind thinks we need to change the outside world, a unity heart knows the changes can only occur within and from that place we change our world. 
In honour of Equinox Gateway we have coming up I am offering a 10% discount on my Personal & Spiritual Development Course which begins on 14th September.
My course will show you the tools techniques and perspectives to move from duality into unity!
Click below for more details and to sign up!
 Personal & Spiritual Development Course Details
I offer payment plans so you can spread the cost of £270 over many months if needed. You could pay as little as £40 in 7 installments, either weekly or monthly! If this is still out of your reach then send me a message with your own proposal of what you could afford and we can take it from there!
It is important to make a financial commitment as you will commit to the course and get more out of it but I want it to be available to all, so just get in touch michele@micheleelizbeth.co.uk 
 I am also going to continue offering you A soul Path Reading and General Reading at the discounted price of £40 usual price £75.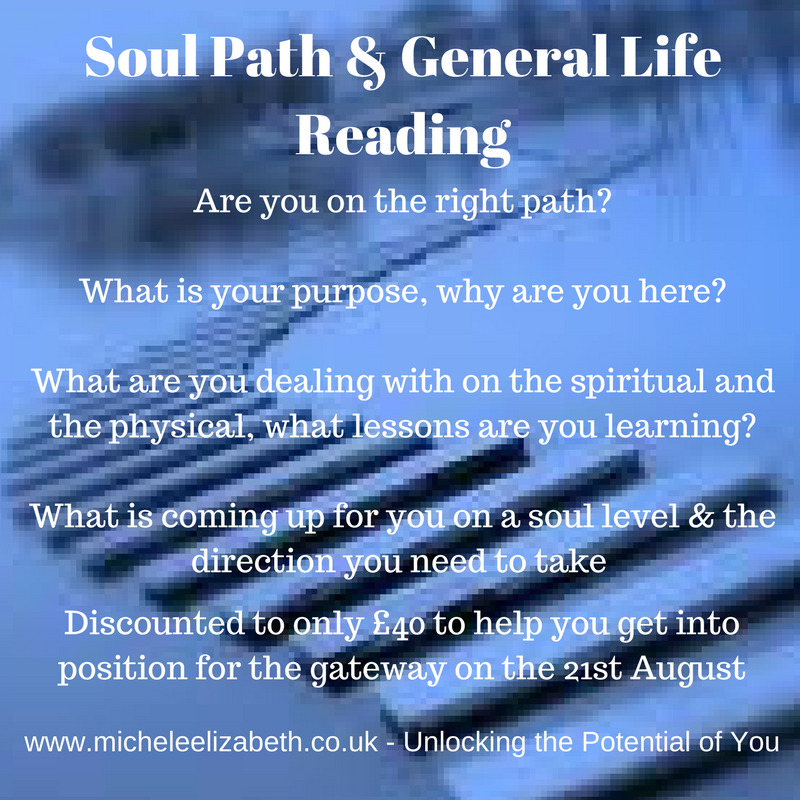 As our souls are really calling us at the moment these readings can help you trust and believe in the voice you have been hearing because I know you know, you just don't quite trust that inner knowing yet.
It can be hard initially to distinguish your soul's voice from your ego's, I remember those days before I really nailed my processing that ego never shuts up and it is loud!
Click below for more details
 Soul Path and General Reading Details
For more information on courses and coaching check out www.micheleelizabeth.co.uk/courses

Please do check out my website, there is information on the development courses I offer and mystic services as well as lots of free video's, information, meditations and general life hacks
Also keep up to date with my daily energy forecasts and  Like The Enlightenment Project on Facebook
Lots of love and laughter to you all, have a fabulous September!
Michele xxxxx