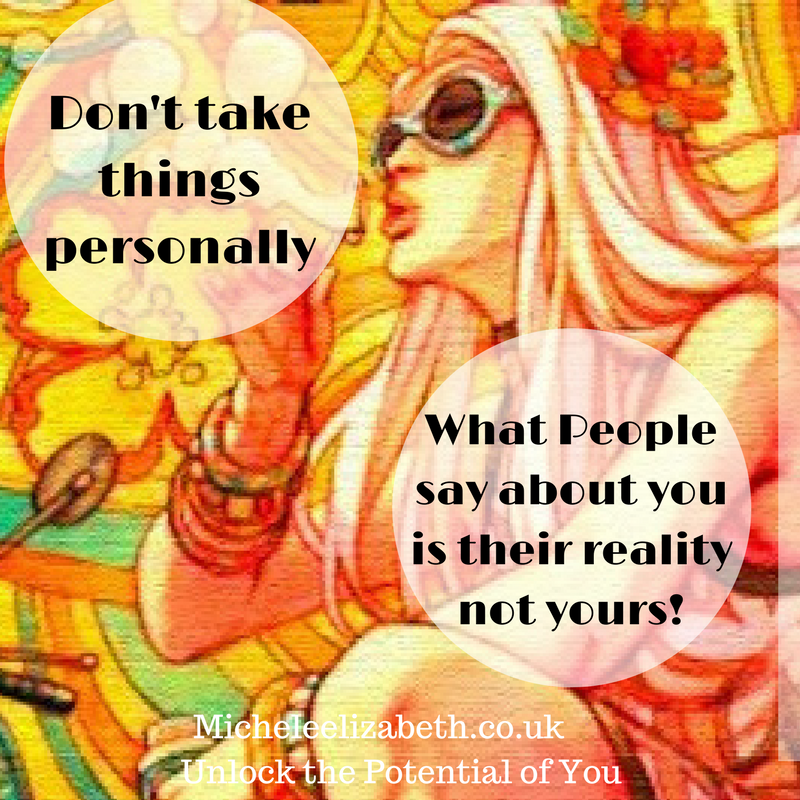 Hey Friend
Don't take things personally, what other people think of you is their reality not yours!
We take everything personally but nothing ever is and once you are able to live life from this perspective the world is a less painful and frustrating place to be.
The topic of taking things personally could fill a book so for now I will focus on when people say bad things about you.
People say mean, judgemental and gossipy things all the time and it sucks.
Having someone who you may or may not know say something about you that is untrue or just nasty can be so hurtful and cause all sorts of negative reactions in you.
Sometimes you turn these emotions inwards and other times you explode outwardly, neither is good for you but they feel outside of your control.
After all you can't control what other people think and say about you, that's true but you can stop it affecting you.
A slight shift in perspective will help you take those first steps to being liberated from the opinions and actions of others.
It really isn't personal and what someone has to say about you has more to say about whom they are as a person.
Nobody knows you

, not really, not all of you; you are way too complex and multi-faceted to be known by one person.

Nobody knows your life

, they see but a snapshot, projected through your filter and perceived through theirs. No one is in a position to judge you with any merit and nor do they have right to, although they do have a right to their opinion and you have a right to refuse that opinion. Just don't take it on board, who they see is not you, so it is of no consequence.
What a person talks about most is what they themselves have unreconciled within. Their unconscious is speaking to them in the hope that they hear. They aren't getting angry or judgemental with you,

it is all about them. 
Then think about how you react to this! This is a two way street, what people think or say about you would have no effect if you didn't react.
We have all been conditioned to be people pleasers. We want everyone to like us as this validates that we are a good person as we don't believe it truly ourselves. So when someone doesn't like us or says untruths or mean things it can make us go a little crazy. Stop this one in its tracks and

see your own true worth!
Do you really care what a particular person says about you? Do you even like them? Do you value their opinion? If you wouldn't go to them for advice why do you care about their opinion now? We do have a tendency to focus on the bad things people say about us and shrug off the good. Turn this on its head and focus on only the good things, accept and embrace your positive energy coming back.
If people listen to them then the same points apply to them.
When you take a step back from the drama and the hurt you can see that this really has nothing to do with you.
If they were in a happier place they wouldn't behave in this way and if it wasn't you it would be someone else. This is about them and their world so just be grateful you aren't them and walk on by.
I can show you this new perspective and teach you the techniques to find heal and release your core wounds so that someone's words no longer have the power to hurt you.
I would love for you to join me and the growing numbers of awesome people who are ready to change their life and create something wonderful by signing up to my Online Personal Development Course.
Lots of love and laughter Michele xxx
Click the link below for more information.
https://micheleelizabeth.simplero.com/page/76824-personal-development-course
Micheleelizabeth.co.uk Unlocking the Potential of You
#personaldevelopment #consciousliving #developmentcourses #selfdevelopment
#consciousawareness #expandyourawareness #selfimprovement #selfdevelopment