Michele Elizabeth July 2017 Newsletter
 
Hey Friend
Welcome to my July Newsletter
I can't believe how quickly a month has passed!
So we are halfway through the year and this is always a good point for a spot of reflection.
So how has your life been over the last 6 months?
How have you been?
Have you noticed any changes or repeating patterns?
Lesson learned and cycles ended?
If find yourself repeating the same patterns and cycles then it is time for a change, to do something about it.
That is not the way life should be! Life is an adventure, a journey of discovery and wonder!
If you are ready to make that change then My Personal & Spiritual Development Course Details  would be perfect for you!
If you are a little unsure then I am developing a great free programme to help you take those first steps, If you go to Your Freebie Page Free Stuff you can see I have started with Step 1.
Exclusively for you -  Energetic Forecast for July 2017 
     JULY GLOBAL
ENERGY FORECAST 
 July is a time for reflection release and action
.
Work with the energy around you and find your life become so much easier.
Look at it this way if the weather forecast said that there were going to be thunderstorms all day, would you organise a picnic?
So if the energy is about reflection then it wouldn't be a good time to start a new project, you may need to wait and reflect for a while as something may come to light you weren't aware of before. If you push forward when the energy is about sitting back, you can end up wasting time money and effort and feeling very frustrated and confused.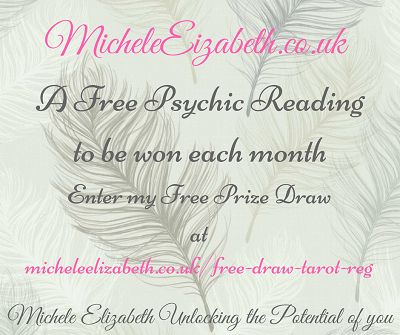 As Members of my Learning Site you are automatically entered into this each month.
The winner will be drawn tomorrow so keep an eye on your mail box
Readings are great to give you some insight into your life right now, the obstacles you may be facing and the direction you need to take. Helping you to move forward if you feel stuck or to give you validation that you are on the right path.
Follow the link if you would like to book a personal reading with me 
 Book a Personal Reading with Michele Elizabeth
Or develop this skill yourself with my Learn To Read Tarot Course Click here to learn more
Life as a Mystic
As a mystic I live an extraordinary life and this path is open to you too, if you choose it.
Here is an excerpt from my journal last week, so you can see how fabulous it is!
Yesterday came a surprise visitor and I am overjoyed.
As I walked along the shore up popped Simon, now some of you will remember Simon from my posts over the years. He was a great friend in life and an amazing teacher in spirit.
For a full year after he died, Simon visited me every day and taught me how to hone my skills, my favourite memory is me lying on the meadow grass in the summer sun and him lying across a tree branch looking down at me saying "say what you see, say what you see, don't think just say what you see". He took me beyond the veil and introduced me to what I knew then as my guides, that year was amazing, we did so much and it changed me forever.
At the end of the year, he had taught me all he could and that was when Johab came in and my training went to another level entirely.
When Simon left he told me he wouldn't be back and if he was it would only be a flying visit. We had to say our goodbyes, our time was done.
He came back once a year or so later just to let me know what he had been up to, which is another fascinating story and one I would love to share with you another time.
Then yesterday here he is again.
He looks older, not quite the age when he died, now he's 30's Simon, he was 20's Simon the last time I saw him, although he still greeted me with hey what's the story morning glory?
I love that dude, he still has that same boyish energy but now with the stillness of a wise old man.
We spent 5 minutes just being thrilled to see each other, hugging and punching. Simon is the kind of guy that when you see him you want to shout BUNDLE and rugby tackle him to the floor.
Then I asked him why he was here, it's time, we have more stuff to do he said. So what are you going to teach me this time, to walk on water? Something like that he said, we shared a joke about this, we always were like a little comedy sketch show. I miss that, I find myself hilarious anyway but with Simon I am a feckin comedy genius.
He didn't tell me much more than that other than, you will see grasshopper, so I monkey Magic'd his ass. (This is reference to a TV show in the 80's) He does enjoy hamming up the wise soul stuff
My meditation this morning revealed more (another interesting story haha) and although Simon was there he was just in the back ground giving me the thumbs up.
So I am one happy little sunbeam, my kid brother/spiritual teacher has come home to play for the summer!
Wouldn't you love to share experiences like this with your loved ones Friend ? Right now you are probably thinking hell no, it would scare the life out of me and you are right, which is why as with all things it is a process, a slow development building layer upon layer so you can take it in your stride.
But just think what it would be like if death wasn't the end of your relationship, if there was more!
The Key to all of this is your own Personal Development!
Everything Begins with YOU
Before you can begin to learn new things, new ways of seeing thinking believing and acting you have to dismantle the old, get rid of the thoughts that are holding you back and my Personal & Spiritual Development Course is perfect for this.
Always open for healing requests

Please do check out my website, there is information on the development courses I offer and mystic services as well as lots of free video's, information, meditations and general life hacks
You have all been given access to my New Teaching Platform and I am working on it daily to bring you some great courses and programmes to help you on your Personal and Spiritual Development Journey, so let's do this, after all there is no better time as 2017 is the year of YOU
So that's it, I hope you enjoyed it and I will see you next month, If there are any topics you are particularly interested in or have any questions then please get in touch at michele@micheleelizabeth.co.uk
Lots of love and laughter to you all, have a fabulous July
Michele xxxxx