Hey Friend
We are living in extraordinary times and the energetic shifts and gateways that we have experienced over the last month have been phenomenal and are helping us embrace our true purpose and soul path. 
The final one this month is coming up on the 21st August with the New Moon Solar Eclipse.
This is an excerpt from an article I recently wrote on The Enlightenment Project on Facebook
New Moon Solar Eclipse 21st August 2017 – The Next Gateway of Change for Us
Wow we really are in the most extraordinary time of change and new beginnings for us. The greatest push or energetic surge for awakening that I have felt in a while and I love it, I am so excited about the changes that are happening in your lives!
We have just had A New Moon Lunar Eclipse, followed the next day by Lions Gate and on the 21st we have a Full Moon Solar Eclipse, this brings intense powerful energy with the ability to create great change, within in you......To read more...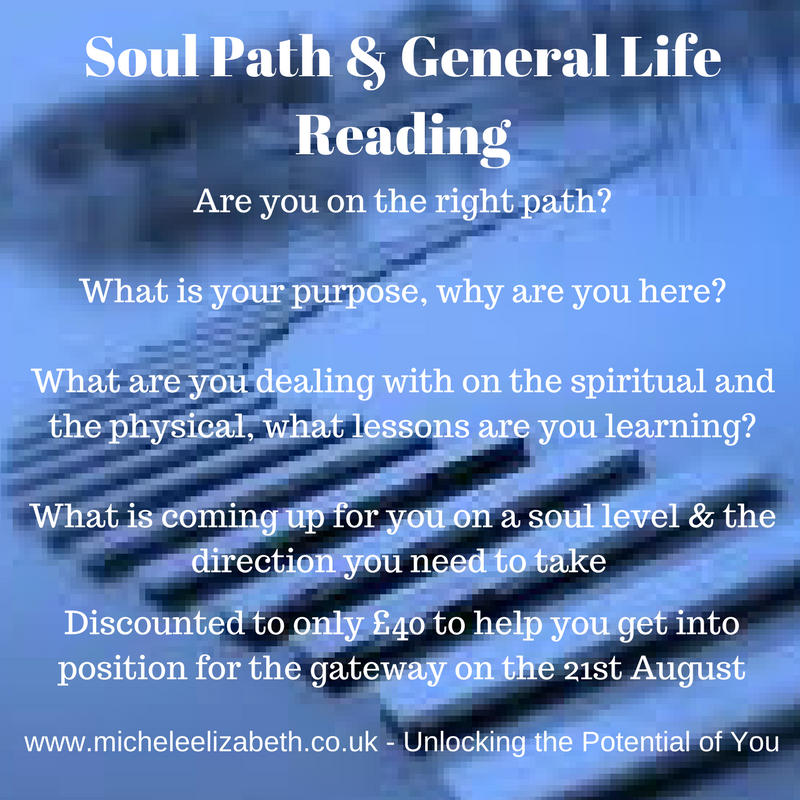 To help you with this I am offering a combined Soul Path and General Reading for the discounted price of £40, usual price £75, until the 20th of August, and the next eclipse gateway is on the 21st August 2017
I will send your reading via audio file email and it makes no difference in the connection whether you are sat in front of me or on the other side of the world.
So take advantage of this limited time special offer today!
A Soul Path and General Reading for £40 discounted from £75
BOOK YOUR READING NOW USING THE LINK BELOW
Soul Path & General Reading with Michele Elizabeth
Have a wonderful day.
Lots of love and laughter Michele xxxxx